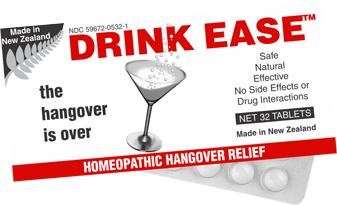 Drink Ease is an effective remedy to help counter the unpleasant after-effects of alcohol consumption.
Employing a combination of safe homeopathic ingredients, it helps the body combat the symptoms generally known as "hangover", including headache, indigestion, nausea and dizziness.
Hangover is not due solely to the amount of alcohol consumed. Other factors such as the type and quality of the alcoholic beverage are significant. It is also important to take food with alcohol, and the after-effects can be greatly ameliorated by drinking water both during and after alcohol consumption.
Drink Ease does not directly neutralize the chemical effects of alcohol, but stimulates the body's own natural processes to deal more quickly and efficiently with its poisoning effects. Drink Ease has no harmful side-effects.
Hangovers Cost $148 Billion Annually


''Miami's Hottest New Hotel,'' The Standard, hotelier Andre Balazs' (105-room property on Miami Beach's Belle Isle.) - has their Mini-bars stocked with homeopathic Drink Ease hangover medication The Standard

Drink ease is now available at Urban Outfitters

DRINK EASE WAS AT THE THE MTV VIDEO MUSIC AWARDS

After the MTV awards "We were out till 4:30am. In the morning I was completely fine, I didn't have a hangover"

"Its too good to be true, but it worked for our sports guy Money"

- From the Kevin & Bean AM Show - KROQ rock station in LA

Click on the play button to listen to the Kevin and Bean interview with Drink Ease inventor

"Drink Ease, tell you what man, they helped me out."
Rex Charger - Rock 102 One

Click on the play button to listen to the Rex Charger's comments on using Drink Ease

Drink Ease was selected by the 10th Annual Screen Actors Guild Awards to be given to all the celebrity Presenters and Nominees in their gift baskets.

Drink Ease was on CNN with Jeanne Moos
New Years Day 2004